airships: north pole quest | The Game
The majestic beauty of airships, epic missions to unexplored lands, facing adverse weather conditions with early technologies.
A true and forgotten story, exploring the earth from the sky, a unique moment in the human history.
La maestosa bellezza dei dirigibili, le epiche missioni in terre inesplorate, le condizioni meteorologiche avverse affrontate con le prime tecnologie. Una storia vera e dimenticata, l'esplorazione della terra dal cielo, un momento unico nella storia dell'umanità.
An Epic race
towards the Pole
We will bring you back to 1924, in the golden years of airships, when nations started aiming for the Arctic, the last inviolate frontier, and for its symbol: the North Pole.
We want you to relive the same thrills and challenges, assuming the role of a brave commander responsible for the life of his crew. You must balance the sometimes-competing priorities of political pressures, scientific ambition, and immense expenses, all while dealing with issues that are, literally, "life and death."
Vi riporteremo al 1924, negli anni d'oro dei dirigibili, quando le nazioni iniziarono a puntare all'Artico, l'ultima frontiera inviolata, e al suo simbolo: il Polo Nord.
Rivivrete le stesse emozioni e sfide, assumendo il ruolo di un coraggioso comandante responsabile della vita del suo equipaggio. Dovrete bilanciare le priorità, le pressioni politiche, l'ambizione scientifica e le immense spese; il tutto affrontando questioni che sono, letteralmente, "di vita o di morte".
Massimiliano "Max" Pinucci
Designer, teacher and pilot

Designer and teacher, Max Pinucci loves everything that tells the horizons: travel, cartography, geography, history, always an enthusiast of the history of flight and exploration.
Elena Degl'
Innocenti
Art direction, video and animations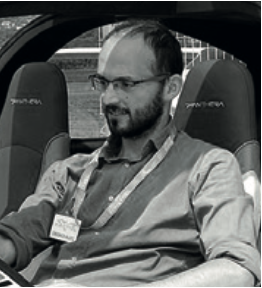 Marco Ferracci
Game production, 3D modelling and art
Manuela Coticone
Project management and game developmen
Lorenzo Ninci
Game design and rules development
Valentina Pala
Graphic design and layout
Kevin Duke
Rules editing, advice and marketing (US)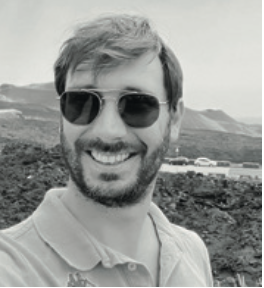 Nicola Aggogeri
Advice and marketing (ITA)
Nello Fontani
3D animations and ar
Stephen Clark Briggs
Augusto Chiarle
Patrick Dauscher
Carl-Oscar Lawaczeck
Silvio "Pan" Lucchesi
Elisabetta Pinucci
Thibault Proux
Olga Venetska
Gregory Alegi
Sergei Bendin
Andrew Brown
Bruce Dickinson
Roberto di Meglio
Kirk Mc Ginnis
Knut Petter Johannesen
Carl-Oscar Lawaczeck
Mikhail Panchenko
Alastair Reid
Francisco A. Gonzalez Redondo François-Gilles Ricard
Adelio Roviti
John Stephenson
Antonio Ventre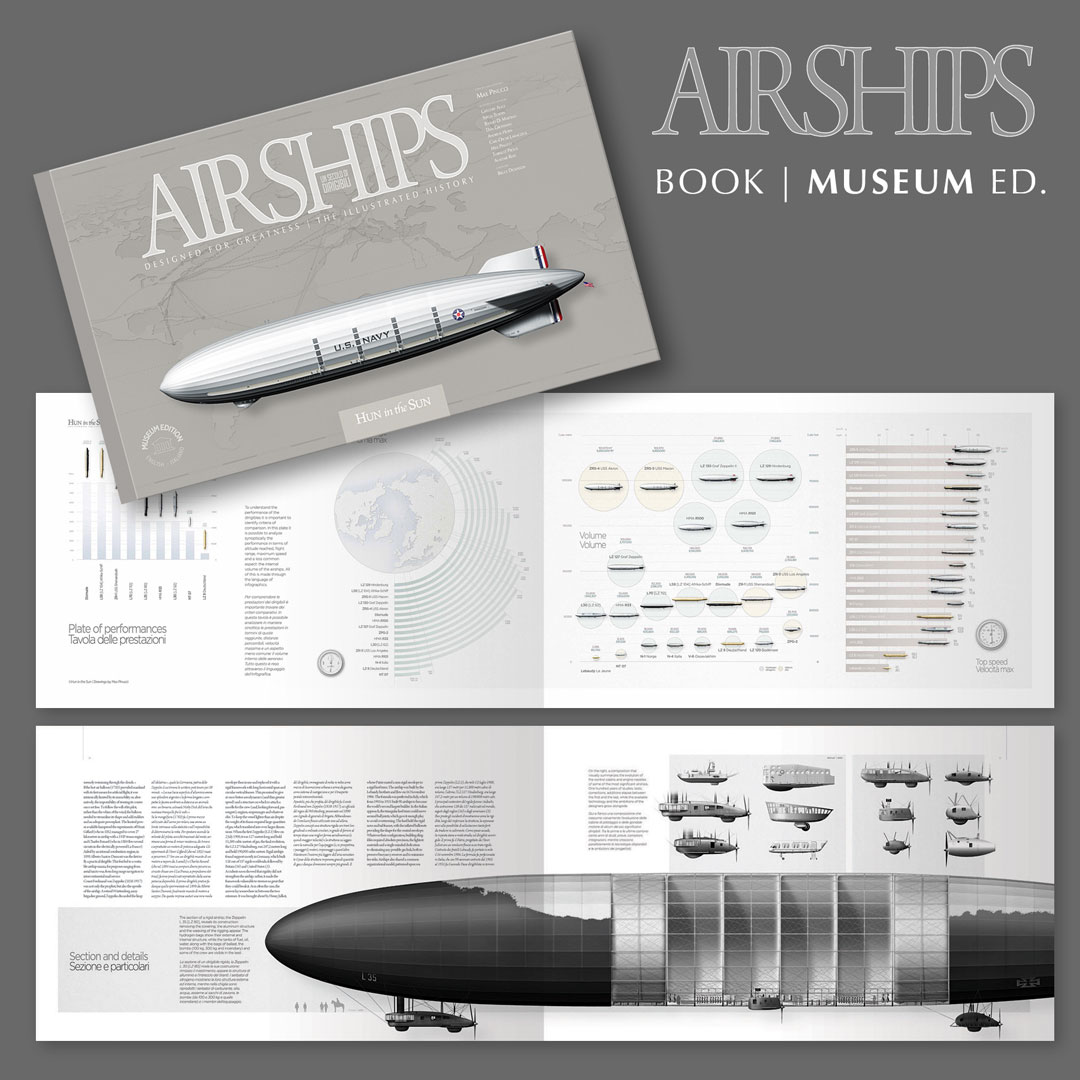 Based on "Airships | Designed for greatness, the illustrated history", created by an international team and regarded to be the most beautiful book on the subject in the aeronautic literature.

Basato su "Airships | Designed for greatness, the illustrated history", creato da un team internazionale e considerato il più bel libro sull'argomento nella letteratura aeronautica.
Petter
Johannesen
Grandnephew of Roald Amundsen
"I love history told through a game. I love "Airships, North Pole Quest". The North Pole, airships, exploration, challenge and triumph are fantastic ingredients to enjoy some competition with your family and friends".

Antonio
Ventre
Umberto Nobile Museum,
director
"Amazing! A beautiful work, a great way to pay tribute to these forgotten heroes of the past, to which we owe so much"

Carl-Oscar Lawaczeck
CEO Oceansky, Airships operator and pilot
"Mankind has always explored and pushed the boundaries. It's part of who we are. The "Airships North Pole Quest" board game tickles this deep instinct, unleash your passion: the race is on".
John
Stevenson
Film director
and animator
"If you think that Airships are the most romantic and exotic of all the symbols of humanity's dream of flight, then this beautiful game will make your heart soar".
Thibault
Proux
Airships
Engineer
"Full of realism and History, complete and with a pure refined design "Airships, North Pole Quest"is the perfect game that will satisfy equally the most airship enthusiast as well as the youngest polar explorer".

01. Scoreboard
02. Weather Disc
03. Game Plan
04. Commanders
05. Specialist Token
06. Airships
07. Ships
08. Navigating Tool
09. Range Calculator
10. Wind Indicator
11. Venture Cards
12. Strategy Cards
13. Mission Cards
14. Solo Mode Cards
15. Telegrams
16. Mission Calculator
17. Bonds
18. Target Token
19. Mooring mast
20. Clips
21. Place Holder Card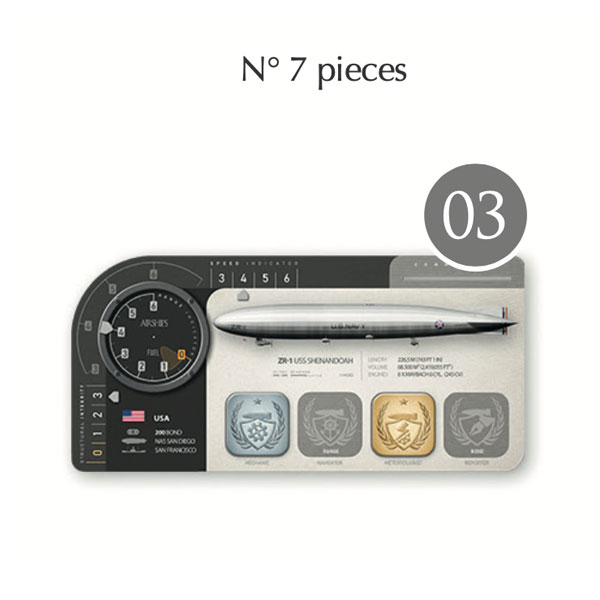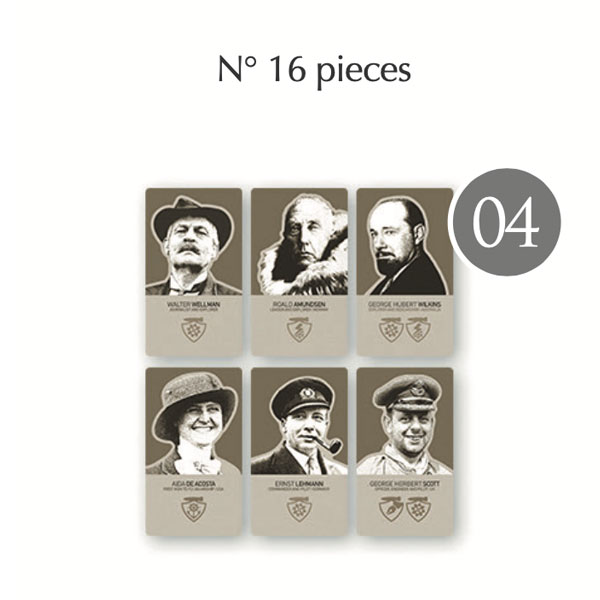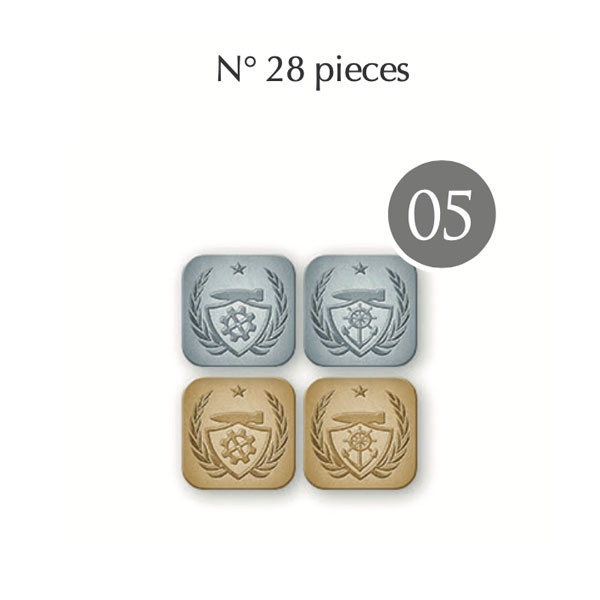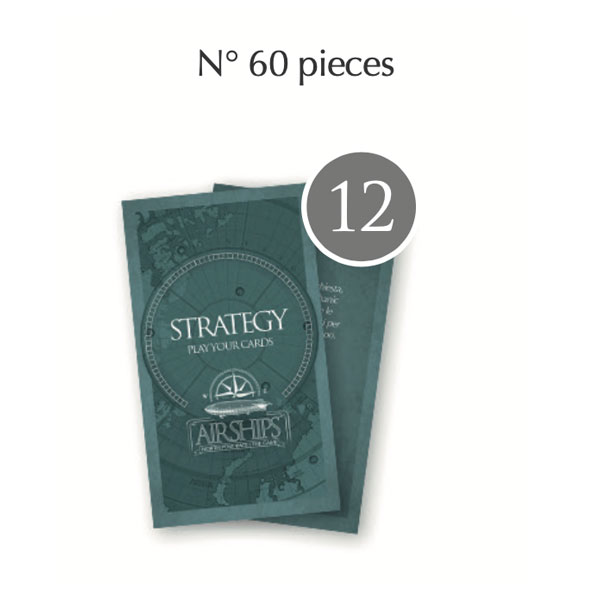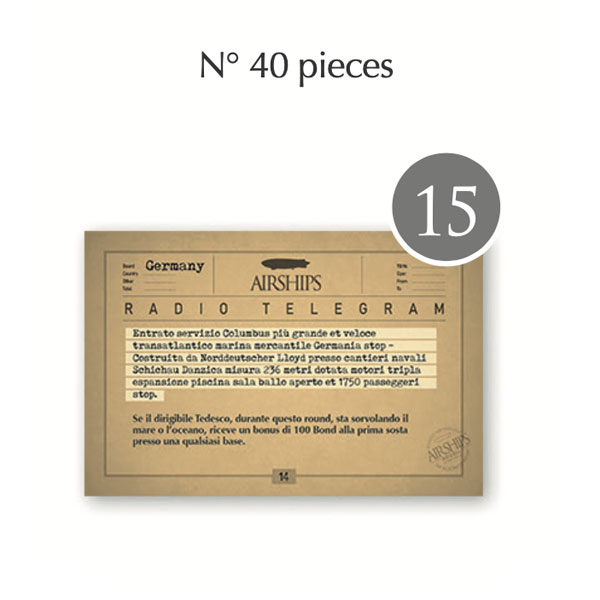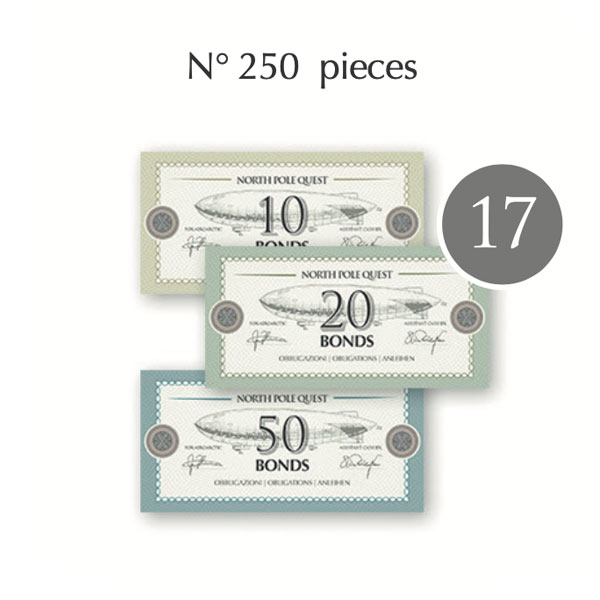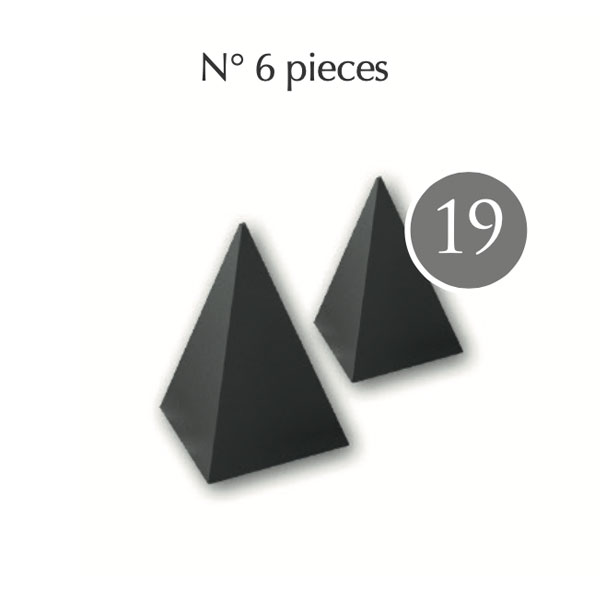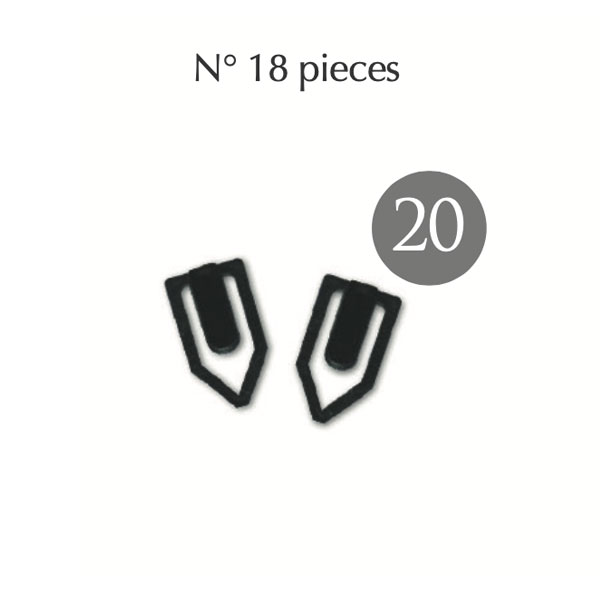 Thanks to the accurate and planned historical and iconographic research, based on hundreds of pictures and drawings, in collaboration with an international team of authors and experts, all the components of the game have been designed in extreme detail. Years of work have been devoted to the realization of this board game, dedicated to the most amazing flying machines from the early days of aviation. You will get to play with real Airships models in scale, using authentic cartographytools diving deep into a unique atmosphere. 
Grazie a un'accurata e pianificata ricerca storica e iconografica, basata su centinaia di immagini e disegni, in collaborazione con un team internazionale di autori ed esperti, tutti i componenti del gioco sono stati progettati con estremo dettaglio.
Anni di lavoro sono stati dedicati alla realizzazione di questo gioco da tavolo, dedicato alle più incredibili macchine volanti degli albori dell'aviazione. Potrete giocare con veri modelli di dirigibili in scala, utilizzando strumenti cartografici autentici e immergendovi in un'atmosfera unica.