Design for greatness, the illustrated history
A wonderful book,
a tribute to 100 years of Airships
through an innovative graphic design,
extremely detailed plates
and scientific and informative text.
Bilingual, English and Italian
The Airships page on Facebook gathers a community of more than 2,000 fans
Realized with the highest quality printing techniques, it is printed in small batches without any quantitative limits. Designed for museums and libraries, it presents the same foliation as the Collector's and Limited, from which it differs because of the cover and finest quality paper.
This special version contains a specific section dedicated to the air race to the North Pole, from Andrées' Eagle baloon to the America airship, from missed expedition to the successful 1926 Amundsen-Ellsworth-Nobile N-1 Norge flight, from the tragedy of the N-4 Italia to the Arctic cruise of the Graff Zeppelin, the crash of the V6 Osoaviakhim of 1937 up to the ZPG-2 Snow Bird flight in 1958.
Only 200 prints, sold-out a long time ago as well as the others. Same volume es the Limited version, printed with different techniques on different paper types, without its unique box, nowadays the books belong to collectors, writers, artists, entrepreneurs, musicians and amateurs from across 28 countries.
An extremely precious object.
The first and most luxorious edition of the book Airships, a limited batch of 20 numbered pieces plus 5 non numbered. A walnut wood veneered laser engraved box encloses the book, introduced on a page that guarantees its uniqueness. Aimed towards collectors and amateurs, it went sold- out in a matter of just a few weeks. But Max saved 4 pieces…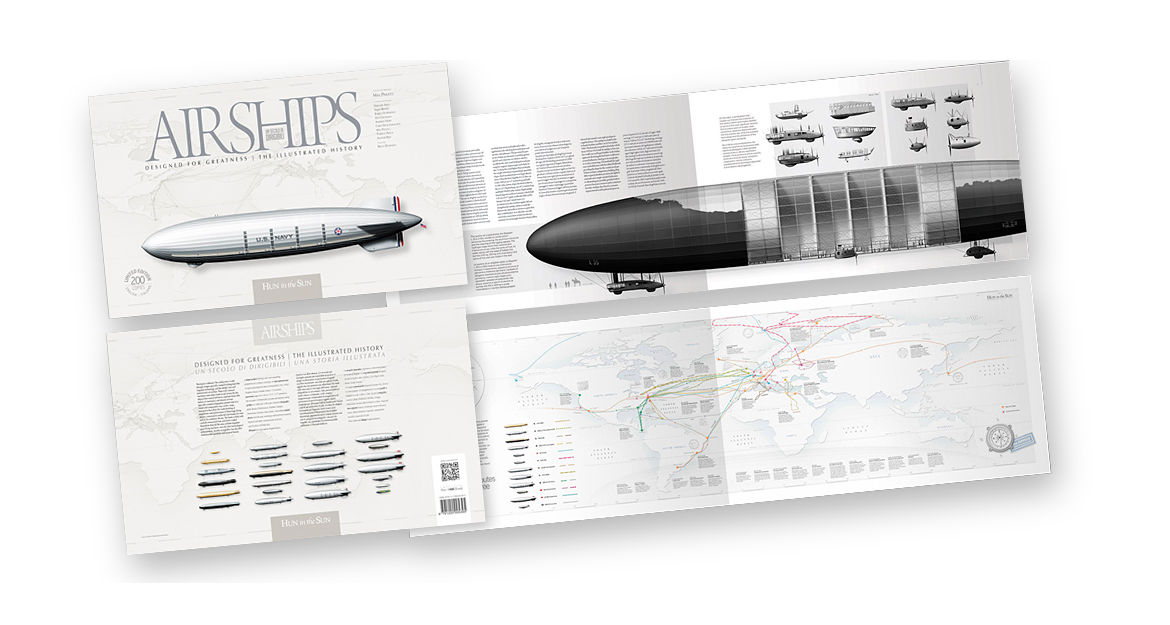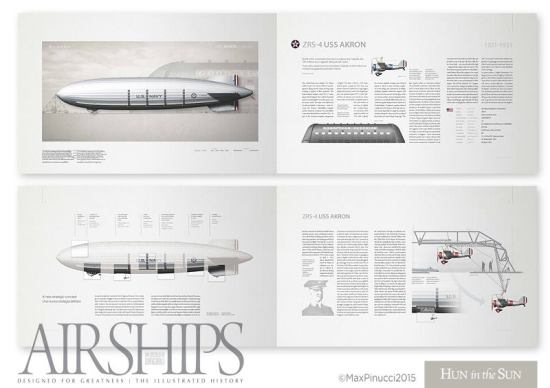 114 oversize
panoramic pages
(45x28cm / 17,7" x 11")
Printed on fine art paper
24 Historically accurate
and detailed Airships profiles
1:400 & 1:700 scale
Extensive infographic
full-color plates
(Routes, performances,
timeline, Hangars,
dimensions, sections,
Masts, bases)
Original photographs,
renderings, and
hand-drawn portraits.
Imperial and metric
Measurements and data.
Artworks and art direction
Gregory Alegi
Sergei Bendin
Basilio di Martino
Dan Grossman
Andreas Horn
Carl-Oscar Lawaczeck
Thibault Proux
Max Pinucci
Alastair Reid
This book is different. The airship history is told through images specially created to bring back forgotten technologies, designs, sizes and performances of different airships. These truly unusual machines were genuine ships made to sail across the sky, objects that cannot fail but to captivate those who believe in mechanics and dreams of man.
Welcome to the world of the most famous airships in history.



Max Pinucci
Specifically created infographics present data through a visual and comparative approach: scales, maps, histograms to allow the understanding of propotions and performances
of these huge flying objects, conceived to challenge the ultimate boundary for man and his ambition: the sky. The book is filled with carefully-researched texts and finely crafted Illustrations that tell the history of these forgotten gigantic flying machines: not only their technological achievements, records or tragedies, but also their immeasurable greatness and unusual beauty. A unique project offering a new and compelling perspective on a century of airships. An international team of experts spanning from Italy to Switzerland, USA, United Kingdom, Russia, Sweden, France.