Edited by

Project by: Max Pinucci,
Gameplay by: Andrea Angiolino
The epic of the air transflights of the golden age of aviation
L'epopea delle trasvolate aeree dell'età d'oro dell'aviazione
A tribute to the S.55, iconic seaplane of the transatlantic cruises of the 1920s and 1930s: the 1927 Cruise of the Two Americas, the Italy-Brazil Transatlantic of 1930-31, the North Atlantic of 1933. A compelling game of planning, strategy, reenactment, courage.
Un omaggio allo S.55, iconico idrovolante delle crociere transatlantiche degli anni '20 e '30: la crociera del 1927 delle Due Americhe, la Transatlantica Italia-Brasile del 1930-1931, quella del Nord Atlantico del 1933. Un gioco avvincente di pianificazione, strategia, ricostruzione, coraggio.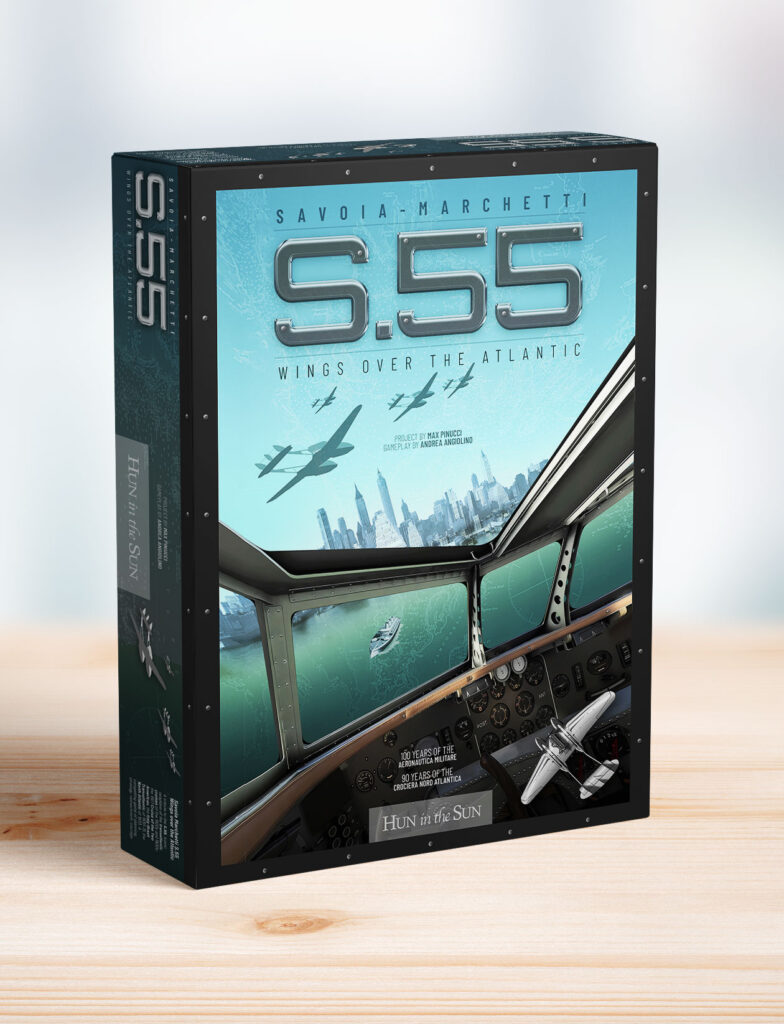 Un progetto di
Max Pinucci
Gameplay di
Andrea Angiolino
Edito da
Hun in the Sun
In collaboration with
Aeronautica Militare,
5°Reparto SMA
Ufficio Storico dell'Aeronautica Militare
Società Geografica Italiana
MBVision
The game is developed by Andrea Angiolino, a game author, journalist and Italian specialized divulgator. He has written several books about games and on games. He is the author of television and radio games, as well as role-playing and board games, including the famous Wings of Glory, a great international success. He has also been appointed as a consultant to the Ministry of Education with the title of "expert inventor of games."

Il gioco è sviluppato da Andrea Angiolino, è autore di giochi, giornalista e divulgatore italiano specializzato nell'argomento. Ha scritto vari libri di giochi e sui giochi. È autore di giochi televisivi e radiofonici, nonché di giochi di ruolo e da tavolo, tra cui il celebre Wings of Glory, un grande successo internazionale. È stato anche nominato consulente del Ministero della Pubblica Istruzione con la qualifica di "esperto inventore di giochi".
Max Pinucci
Designer, professor and biplane pilot, CEO of MBVision and Hun in the Sun, Max Pinucci is an aviation author and illustrator. After the success of his book: Airships and the Airships North Pole Race board game, he conceived the S.55 project involving experts in game development and aviation experts. He also curated the historical and iconographic aspects.

Designer, professore e pilota di biplano, CEO di MBVision e Hun in the Sun, Max Pinucci è un autore e illustratore di aviazione. Dopo il successo del suo libro: Airships e del gioco da tavolo Airships North Pole Race, ha ideato il progetto S.55 coinvolgendo esperti di sviluppo di giochi ed esperti di aviazione. Ha inoltre curato gli aspetti storici e iconografici.
Art direction
Elena Degl'Innocenti
Campaign manager
Valerio Ferzi
Grafiche e packaging
Edoardo Cappiello
Lorenzo Fontanelli
Sandy Miranceli
Max Pinucci
Ilaria Torcolacci
Modellazione e miniature
Marco Ferracci
Emmanuele Campinotti
Video
Elena Degl'Innocenti
Teresa Pilato
Con la collaborazione di
Margherita Azzari
Augusto Chiarle
Rosario D'Auria
Andrea Moscardini
Valentina Pala
Elisabetta Pinucci
S.55 – Wings over the Atlantic was created to tell the story of the individual and mass transflights that, in the 1920s and 1930s, showed how planes could cross oceans and become a useful means of transportation for passengers, cargo and mail by connecting continents. The exploits of Francesco De Pinedo, Italo Balbo and other Italian and foreign pioneers come alive in this game for 1- 5 participants
S.55 – Wings over the Atlantic è stato creato per raccontare la storia dei voli transoceanici, individuali e in formazione che, negli anni '20 e '30, hanno dimostrato come gli aerei potessero attraversare gli oceani e diventare un mezzo di trasporto utile per passeggeri, merci e posta, collegando i continenti. Gli exploit di Francesco De Pinedo, Italo Balbo e altri pionieri italiani e stranieri prendono vita in questo gioco per 1-5 partecipanti."
Everyone makes their own cruise trying to be faster than the others, but at the same time preserving their airplanes from accidents and unforeseen incidents. The basic rulebook is also suitable for casual players, but it is accompanied by a set of advanced and optional rules for true enthusiasts who desire more realism.
Ognuno fa la propria crociera cercando di essere più veloce degli altri, preservando i propri aerei da incidenti e imprevisti. Il regolamento base è adatto anche ai giocatori occasionali, ma è accompagnato da una serie di regole avanzate e opzionali per i veri appassionati che desiderano un maggiore realismo.
The game maps represent the historical routes of oceanic transflights from the 1920s-1930s. Rich in cartographic detail and at a scale of 1:10000000, they feature an interactive system that can influence the game through a weather conditions system.
Le mappe di gioco rappresentano le rotte storiche delle trasvolate oceaniche degli anni 1920-1930. Ricche di dettagli cartografici e in scala 1:10000000, sono dotate di un sistema interattivo in grado di influenzare il gioco attraverso la meteo.
3 decks of cards, allow you to influence the game, through attack and defense actions and special cards. With original photographs and accompanying historical texts, they guide the game with a choice of basic and advanced rules.
3 mazzi di carte specifici, permettono di influenzare il gioco, attraverso azioni di attacco e difesa e carte speciali. Con fotografie originali e testi storici a corredo, guidano il gioco con la possibilità di scegliere fra regole base e avanzate. 
Get comfortable in the pilot's seat, strap on your flyer and get ready to fly across the ocean! Each player has his or her own dashboard, where he or she selects at each turn the goal to be reached, the fuel and the performance of his or her plane or fleet, safe from the prying eyes of your opponents.
Mettiti comodo sul sedile di pilotaggio, imbraccia il volantino e preparati ad attraversare l'oceano in volo! Ogni giocatore ha la propria plancia di comando, dove seleziona ad ogni turno la meta da raggiungere, il carburante e le prestazioni del proprio aereo o flotta, a riparo dagli sguardi indiscreti dei tuoi avversari.