Design for greatness,
the illustrated history
This book is different. The airship history is told through images specially created to bring back forgotten technologies, designs, sizes and performances of different airships. These truly unusual machines were genuine ships made to sail across the sky, objects that cannot fail but to captivate those who believe in mechanics and dreams of man.
Welcome to the world of the most famous airships in history.
Max Pinucci
114 oversize
panoramic pages
(45x28cm / 17,7" x 11")
Printed on fine art paper
24 Historically accurate
and detailed Airships profiles
1:400 & 1:700 scale
Extensive infographic
full-color plates
(Routes, performances,
timeline, Hangars,
dimensions, sections,
Masts, bases)
Original photographs,
renderings, and
hand-drawn portraits.
Imperial and metric
Measurements and data.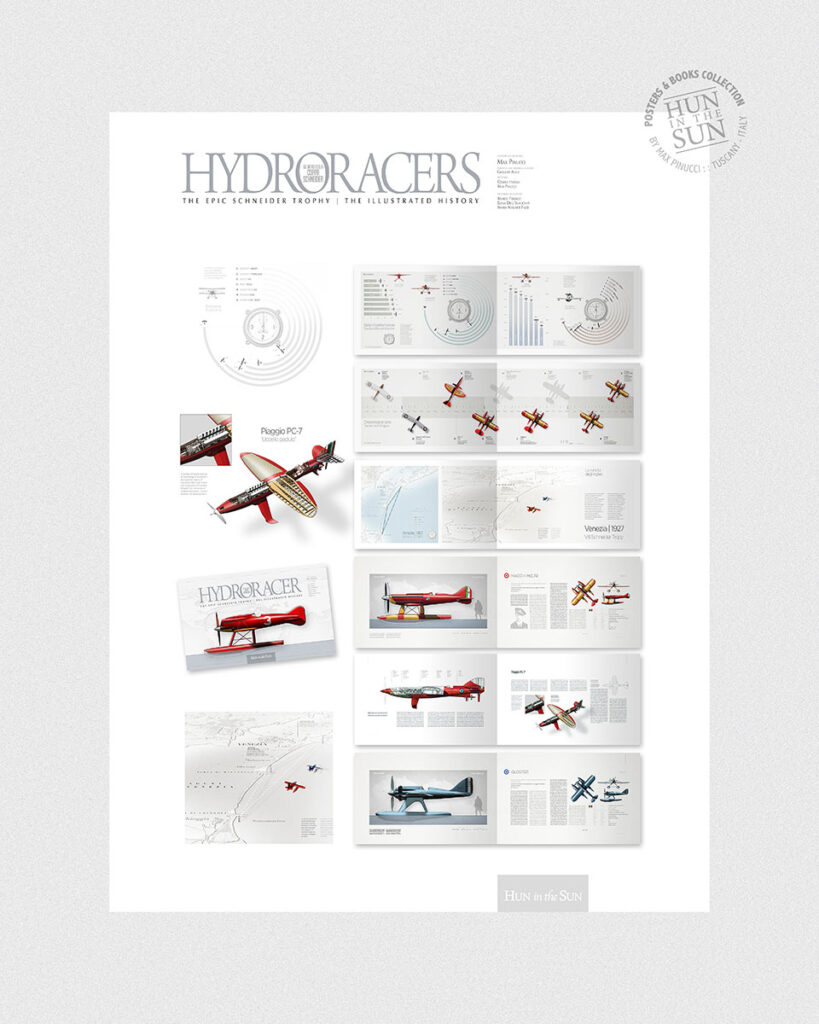 The epic Schneider Trophy
Hun in the Sun
12 tavole
Genere: Artbook

Born simultaneously to terrestrial versions, seaplanes, aircraft that can take off and land by water, immediately fascinated designers and pilots worldwide.
In 1912 a French industrialist, Jacques Schneider, sensing their potential, promoted a competition destined to make his mark in the history of aviation: the Schneider Trophy.
For twenty years, pilots, industries and nations challenged to conquer it, collecting records some of which are still unbeaten in their categories, moving from precarious flying machines to indomitable monsters of speed and power.
This book will be realized by an international team: Gregory Alegi, one of the best known aviation experts, Hideaki Ozawa, passionate Japanese illustrator and Max Pinucci, visual storyteller and 3D artist and designer. Published by Hun in the Sun and MBVision.
They will narrate the roaring epic of Schneider: scale profiles, overview plates, maps, race courses, in-depth information sheets. A unique, modern work, rich in infographics and illustrations, big sized with a prestigious editorial style.
Fine print collection of airships plates
Hun in the Sun
12 tavole
Genere: Artbook

A collection of full color artworks dedicated to the most famous airships. Intended for collectors, enthusiasts of aviation history, modelers. The plates are made with extreme care and clarity, starting from an accurate historical and iconographic research, based on hundreds of vintage photos and technical drawings in collaboration with an international team of authors and experts:
Gregory Alegi (IT), Sergio Alessandrini (IT), Sergey Bendin (RU), Elisabeth Bliesener (DE), Eric Brothers (US), Chris Fenger (US), Elizabeth Flynn (US), Dan Grossman (US), Trevor Monk (UK), Max Pinucci (IT), Thibault Proux (FR), Alastair Reid (UK), Rick Zitarosa (US).
The story in pictures of the giants of the sky doomed to disappear. Protagonists of the collection, the airships Lebaudy "Le Jeune", Zeppelin L23, HMA R34, Zeppelin LZ90, N4 Italia, HMA R101, LZ 127 Graf Zeppelin, ZRS-4 Akron, LZ 129 Hinhenburg, SSSR-V6 Osoaviakhim, Goodyear K-29, Goodyear N1A Wingfoot One.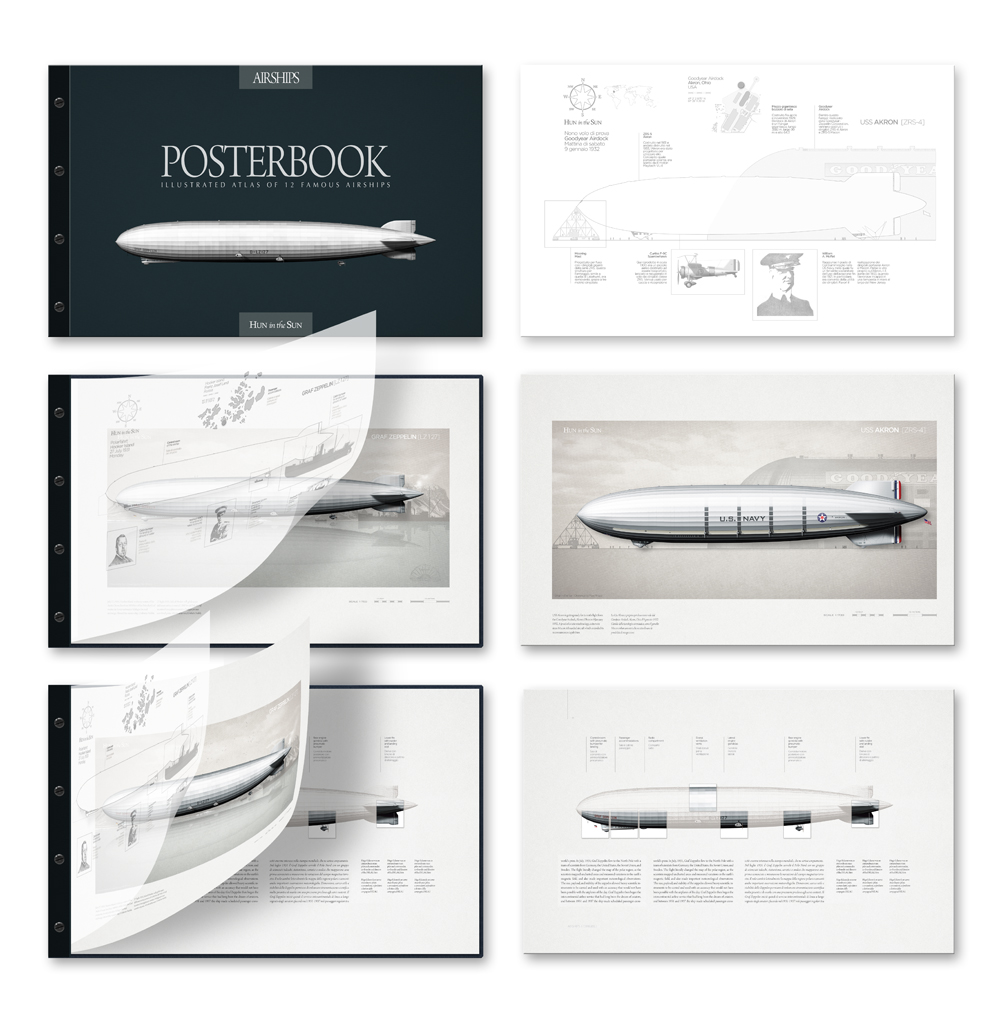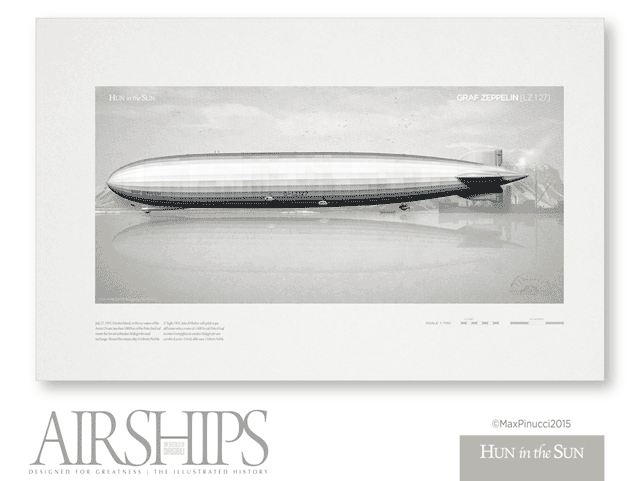 Hun in the Sun
12 tavole
Genere: Artbook

A volume full of beautiful illustrations, with lots of profiles in 1:72 scale (1:32 for details) that collects 8 famous aircraft from the First World War. Versions, liveries, camouflage are accompanied by technical and historical informations and summary plates dedicated to chronology, performances and to the development of these flying machines